See a larger version
Diego Valles, Casas Grandes, Impressed brown jar with polychrome geometric design, with his wife Carla Martinez On sale
Artist: Diego Valles
Pueblo:
Casas Grandes
Dimensions:
5 1/2 in H by 5 in Dia Measurement includes stand
Item Number:
dtcgh6174
Price:
$ 1000
Description:
Impressed brown jar with polychrome geometric design, with his wife Carla Martinez On sale
Condition:
Excellent
Signature:
Carla Mtz
Date Created:
2016
Sale Price:
$825
Diego Valles
Mata Ortiz and
Casas Grandes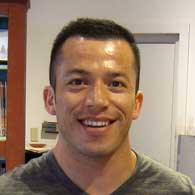 ---
Diego Gerardo Valles Trevizo learned the full range of Mata Ortiz shapes and styles, then struck out on his own in the direction of pure contemporary shapes decorated with stylized ancient designs. Some of his vessels are skeletonized, some undecorated, some with finely painted patterns that run parallel to the rims of his cutouts. His vision and the embodiment of that vision in his pieces is credited with expanding the boundaries of Mexican ceramics.
Diego came into this world in July, 1982 as the son of Diego Valles (deceased) and Angeles Trevizo. He says he made his first pot when he was about 8 years old and he's been hooked ever since. He counts Antonia Tena and Jesus Mora as his primary teachers. Despite becoming an electromechanical engineer, Diego is most proud of his accomplishments in ceramics, especially when he won the 2010 National Youth Award for Arts. He says accepting that award in person from then-Presidente Felipe Calderon was one of the proudest moments in his life. Among his other accomplishments:
First ceramic artist to be Artist-in-Residence at Taliesin West, the Frank Lloyd Wright School of Architecture, Fall 2012.
People's Choice Award at the 2012 4th Biennial Concordia Continental Ceramics.
Proposed by the National Youth Institute as a candidate for the 2011 National Arts and Sciences Award.
First Prize at the Concurso Municipal de Cerámica in September 2011.
Best of Show at the 2010 3rd Biennial Concordia Continental Ceramics.
Best of Show at the 2009 Concurso Anual de la Cerámica de Mata Ortiz.
Best of Show at the 2008 Binational Painting Competition at the Museo de las Culturas del Norte y Zona Arqueológica de Paquimé.
First Prize at the 2006 Concurso Anual de la Cerámica de Mata Ortiz.
Over the last 10 years Diego has traveled the world giving demonstrations and offering workshops about how he makes his pots. His works are shown in some of the finest ceramics museums in the world, like the American Museum of Ceramic Art in Pomona, CA, and the Nerman Museum of Contemporary Art in Overland Park, KS. He also participated in the first show organized by the Museo de Arte Indigena Contemporaneo (MAIC), managed by Espacias de Arte Nomada AC. That was a traveling exhibition that began in Montreal, PQ, Canada, then moved to Boston, New York, Washington, Austin, Ciudad Obregon, the Cabos, Riviera Maya and Mexico City.
Diego tells us his favorite shapes to work with are sculptural vases and his favorite designs tend to be in red and/or black. He says he draws his inspiration from the nature around Mata Ortiz and the culture of Paquimé. He also wants the world to know he believes in God.
Diego is married to fellow potter/engineer Carla Martinez and they have two beautiful daughters.
Print this biography (.pdf)
Pottery Care & Consideration
The most obvious tip: Yes, the pots will break if you drop them!
Do not expose pottery to water (Inside or outside). Do not wipe with a damp cloth.
Dust pottery only with a soft, smooth cloth (no terry cloth or textured fabric). A very soft paintbrush (sable or camel) can be used.
Always use two hands to carry your pot: one on top and one on the bottom, or one hand on each side. Be careful with handles, they can be fragile. Do not grip or lift pots by the rim. Take care when wearing jewelry, rings can scratch the finish.
Place a piece of felt or cloth between the pot and the shelf to protect the signature.
Avoid exposing pottery to extreme temperature changes.
For those who live in "earthquake country" (also good for mischievous pets):
Weigh pots down with a small zip lock bag containing sand, glass marbles, rice, etc. Do not fill the pot more than one third full as you want them bottom heavy. Remember to remove the weight before moving.
Secure your shelves; make sure they are well attached to the walls. Shelf brackets should be of sufficient length and strength to support the weight of your pottery.
Prevent pots from sliding. Consider attaching a small wooden molding to the front of shelves. Line shelves with non-slip material (a thin sheet of rubber foam, Styrofoam sheeting, etc.)
If you need assistance with special problems, major cleaning (your grandchild spills ice cream on your pot), restoration or repair (the cat breaks a pot), or replacement (irreparable damage), please feel free to call us.
We hope these ideas help you maintain the beauty and value of your pottery for years of enjoyment.
Print this page (.pdf)

100 West San Francisco Street, Santa Fe, New Mexico 87501 (505) 986-1234
www.andreafisherpottery.com



Copyright © 1998-2018 by
Andrea Fisher Fine Pottery
All Rights Reserved